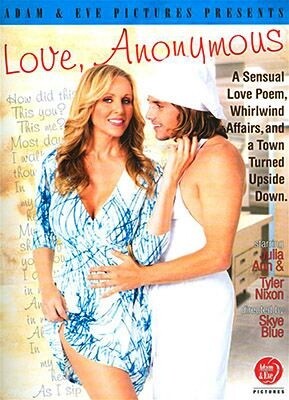 This excellent romance porn revolves around relationships in a boutique bakery owned by Julia Ann. She is friends-only with a customer, local police chief Ryan McLane. Her assistants, Jade Nile and Tyler Nixon, have their own thing going — they show it in a natural, appealing sex scene.
The story starts when Julia finds a love poem in a box that Tyler is moving and assumes it was written by him, anonymously. Figuring it's about her, she gets all excited and seduces him. Dimwit delivery boy Van Wylde spots the poem in the kitchen and decides to claim it as his own. It helps him bed Britney Amber, a girl he's hot for. Then, Julia Ann's art student younger sister (Charlotte Stokely), returns from Europe to renew her lesbian relationship with MILF college professor Bianca Breeze.
Thanks to the well-constructed, believable script by veteran porn writer Raven Touchstone, the various story threads come together neatly at the end. It climaxes with Julia and Ryan abandoning their "just friends" mode, admitting they're in love and fucking the hell out of each other. This is a perfect movie for Julia Ann fans: two big sex scenes, she looks fantastic and gets a chance to display her considerable acting chops.
Synopsis:
So begins a love poem found in a book by Emily (Julia Ann), the owner of Sweet Dixie bakery. Emily believes it came from her head baker, a hot young man who mistakenly believes Emily wrote the poem to him! This leads to a whirlwind affair until she learns he had nothing to do with the poem at all... And now it's gone, stolen by a delivery boy out to impress the girl of his dreams. The poem makes the rounds and affects the love and sex lives of everyone in town: The Chief of Police, college students, a tenured professor and an art history major back home from studies abroad. It's a life-changer an aphrodisiac for them all.