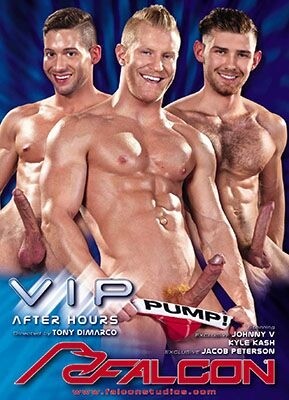 The scandal at a strip club heats up in the conclusion to "The Hustle." Thankfully, stud boss Alex Mecum gets two scenes to show off his hairy muscles and big dick — which never looks hotter than when it's being whipped on the face of eager sucker Kyle Kash, who really wants that dancing gig. "Slap it on my face," instructs the smoothie, whose smiling face and wide eyes look up at Mecum, rubbing his cock all over. He eats and fucks the bottom before shooting his big load all over him, Mecum holding Kash up and kissing him as he licks his own cum off. Mecum then gets in a fight with Johnny V, their anger turning amorous as they strip down and suck each other — Mecum's hairy, tight abs clenching as he fucks the power bottom. He squirts out another amazing load, hitting Johnny in the face and hair (seriously, we could watch him shoot all day).
Jimmy Durano interviews prospective dancer Jacob Petereson, who shows off his furry pecs during his audition. "Your job is to make me come," says Durano, who gives the newbie some pointers — including his massive boner, which is soon planted firmly into both of his holes. Stripper Sebastian Kross gives patron Addison Graham a private dance, nicely gyrating to the beat throughout as he feeds the stud at both ends.
Synopsis:
Money! Power! Sex! 'VIP - After Hours', is part two of the double-feature Falcon Fall Blockbuster that takes you behind the velvet ropes and into the world of a Las Vegas male strip club. Award-winning filmmaker Tony Dimarco directs an all-star cast, in a story filled with strippers' poles, hot assets and lap dances that will get anyone to rise to the occasion! VIP gives you the full monty of the inner workings of this sultry and seductive home to Vegas's sexiest and horniest club staff and strippers. In 'VIP -- After Hours', petty jealousies and rivalries threaten business, but the VIP team knows how to work it and make it work. Jimmy Durano auditions new dancers, like furry and muscular Jacob.