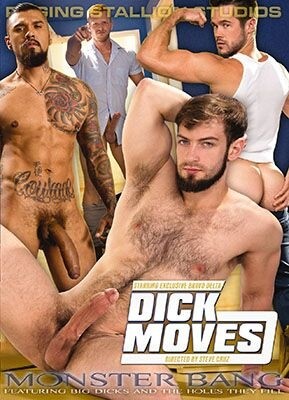 Office assholes get what's coming to them in this tale of pranks and pricks. Sebastian Kross sets up Mike De Marko to drop a box of dildos — then forces him to suck one after the hunk talks back: "Put it in or you're fired!" Kross whips out his own boner and feeds him, a great aerial shot looking down at his tight abs and big shaft. De Marko's own big dick throbs in excitement before he gets fucked. Kross then lets out his anger at Chris Harder over a cup of coffee (which De Marko squirts a load into), the two sucking each other before Harder gets rammed on the staircase — shooting his load as Kross finger bangs him, the top delivering a facial.
Boomer Banks gets mad at Logan McCree for ordering a vegetarian pizza. McCree whips out his dick and slaps it on a slice — then incurs the wrath of Banks, who shoves him to his knees. Banks unleashes his beast and McCree gets a face fuck to remember, the sucker spreading his own mouth with his fingers as he gulps and gags before getting fucked (and a facial). Jock boss Brian Bonds swaps sucks (and gets fucked) by hairy prankster Bravo Delta. Bonds sits down on the top — shooting on Delta's condomed cock before sitting down on it again (hot!), then gets a great facial.
Synopsis:
Demanding bosses are capable of some real 'Dick Moves,' but these resourceful employees turn their supervisors' harassment into an opportunity to literally fuck with the boss. Hall-of-Fame director Steve Cruz mixes business with pleasure when these sexy, 'whoreable' bosses and their stunning subordinates hit it hard at work with 'Dick Moves' anyone would enjoy. Supervisor Sebastian Kross pranks sexy worker Mike De Marko with a box of dildos that spills onto the floor. Sebastian plows Mike with the dildo, and, then with his stiff cock. Mike gets even by oozing a load into Sebastian's coffee, but Chris Harder is the one who pays the price with his asshole for the extra milky java. Sebastian fucks in the stairway, and Chris is left covered in cream. Logan McCree attempts to order a veggie pizza for carnivorous superior Boomer Banks. Logan ends up with a full serving of Boomers 10' meat stick instead, while prick-of-a-boss Boomer gets his daily protein from Logan's load. Bravo Delta leaves apple juice on the toilet seat of the bathroom to prank his boss, Brian Bonds. Brian is not happy about the mess and Bravo is made to give Brian a tongue bath to clean it up. He doesn't miss a drop or the opportunity to bend Brian over and fuck his superior good. Some bosses are pricks, but these supervisors show off different kinds of 'Dick Moves' -- the kind that will have you hard at the office.