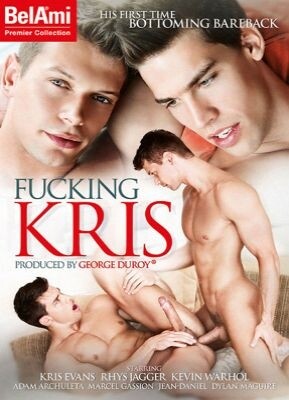 Kris Evans is already cemented as a Bel Ami legend in the middle of his career. Hell, even an opening shot of him running (clothed!) on the beach is enough to see why — he's stunning and charismatic (seriously, are those abs painted on or what?!), and perhaps the closest the studio has come to channeling the aura of Lukas Ridgeston. Then he shows off his adorable English skills as he invites beachgoer Rhys Jagger back to his place. The scene is a two-in-one flip fuck (this feature is billed as Evans' first time bottoming bareback) with two sets of squirts, and the facial Evans delivers Jagger at the very end (after getting the top's load on his hole) is unforgettable.
Evans' cock gets highlighted to stunning effect in the follower with Kevin Warhol. The camera captures it beautifully, and it's never looked bigger or more beautiful as he gets sucked, their two boners soon grazing each other as they kiss (you can practically "feel" his pleasure yourself during this sequence). A romantic fuck follows, Warhol then inviting bottoms Marcel Gassion and Dylan Maguire in for a four-way with another great Evans squirt (he douses both of the bottoms' holes). The finale has our hero bottoming for both Jean-Daniel and Adam Archuleta, whose massive squirt onto both of their faces has them laughing in genuine surprise.
To order, visit PulseDistribution.com.
Synopsis:
Superstar Kris Evans goes where he`s never gone before!