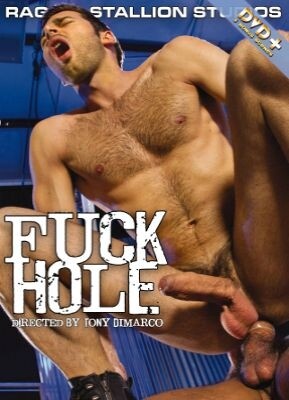 Like aggressive, ass-pounding sex? We thought so. There's a sequence in scene two with smooth Tyson Tyler sitting his bubble butt on tattooed Sean Duran's sizable cock. Tyler's ass impressively swallows the thick shaft to theroot, the top moaning "Ride that fuckin' dick!" as he grabs hold of Tyler'scheeks. The image is intoxicating — that cock disappearing, the contrast intheir skin colors making it even more visually arresting. While riding the top,Tyler gets jacked off by him and squirts, then gets a hot facial.
Equally engaging is the verbal duo of bottom Johnny V and top Joey D, who teases the ripped blond sub: "You want it? Take it, boy!" he moans as Johnny deep-throats him, his nose planted in the muscle man's pubes in a gulp-tastic suck. Johnny gets verbal as his hole gets eaten and pounded ("Fucking get in there!"), the energy from the two leaving even us breath- less. Dario Beck gets three scenes to show off his thick, uncut cock, firing a hands-free squirt while riding Boomer Banks; getting reamed by Derek Atlas; and swallowing a two-headed dildo ass to ass with Tyler — a fantastic sequence where Beck grips the dildo tight with his ass and fucks his bud, who also gets a great goopy facial (Tyler also strokes Beck's rock-hard cock while dildoing him, the bottom's expression priceless).
To order, visit RagingStallion.com.
Synopsis:
Fuck Hole delivers 100%, non-stop, dick-in-mouth and cock-in-ass action. Director Tony Dimarco focuses on capturing super-charged oral and anal penetration by enlisting seven studs to demonstrate exactly what a good 'Fuck Hole' is. The smokin' hot cast engages in steamy man-on-man action using their lips, mouths, cocks, asses and even toys. Boomer Banks plows Dario Beck, and jacks his massive cock to orgasm while his tongue is buried in Dario's freshly-fucked 'Fuck Hole.' Tyson Tyler gets his 'Fuck Hole' eaten and pumped to orgasm by the broad-shouldered Sean Duran. Boyfriends Johnny V and Joey D grapple like sex-charged gladiators when they slam their hard-muscled bodies together to mutual gratifuckation. Tyson Tyler and Dario Beck come back for more in some kinked-out, double headed dildo ass play rear ending each other until they erupt with warm cum. Dario Beck's third erotic Fuck Hole exchange finds Beck's hairy ass filled with intensity by handsome Derek Atlas in a passionate and fiery encounter. 'Fuck Hole' gives you five scenes featuring some of the deepest, wettest and sexiest holes in the world. Brace yourself to get fulfilled along with each one of them!