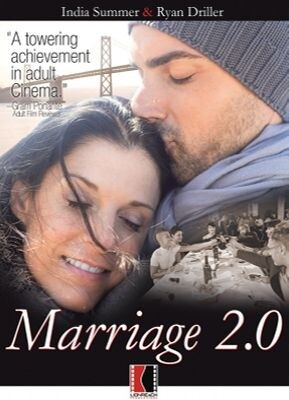 In what will go down as a groundbreaking exploration of modern-day relationships, the debut feature film from Lionreach Productions and Adam & Eve is as refreshing as it is ambitious.

Fueled by rich visual storytelling, superlative acting and a prevailing feeling of authenticity, director Paul Deeb's "Marriage 2.0" shows just how deep adult cinema can go with the right mix of talent and imagination.

A rare achievement in progressive adult filmmaking, "Marriage 2.0" will make viewers think with its strong statements about culture, commitment and unconditional love.

Filmed on location in San Francisco, XBIZ Award-winning stars India Summer and Ryan Driller lead the ensemble cast with career-defining performances as a passionate, conflicted couple grappling with the uncertainties of an open sexual relationship. Dylan Ryan delivers an unforgettable portrayal as "the other woman," while Mickey Mod also rises to the occasion in a thoughtful breakout role.?

In fact it's Mod's character Edward that utters perhaps the most profound line of the entire movie when he tells India, "We're all just looking for perfection, which is just a way to escape the present, which is messy and complex. That's where it's all happening."?

The narrative follows India and Eric (Driller) enjoying each other's company and living life to the fullest as a loving girlfriend and boyfriend.

But in their search for personal freedom and all that it entails they encounter the ultimate test of their committed relationship and are forced to face their fears. Thanks to a terrific, nuanced screenplay from producer Magnus Sullivan and Deeb's skillful attention to detail, the story unfolds in a series of layers that challenge the viewer's perceptions of complicated topics such as monogamy, casual sex and true love.

Just when India and Eric's romance seems to be peaking, India's insecurities come to the surface when Eric wants to spend the weekend with the alluring Kara, who is his "other" girl played masterfully by Ryan. Adding intrigue to that dynamic is that Kara and India cross paths, literally, during their daily jogs on the streets of San Francisco.

India, a documentarian who ironically is working on a film about these relationship themes, turns to sexperts, friends and her mother — Nina Hartley in a wonderful supporting role — for advice and insight as the plot thickens.

In their compelling scene, Hartley tells India how her grandmother once told her to "enjoy the pleasures of men" without regret. "Don't you owe it to yourself to at least try?" she asks India.

It's these kinds of questions that "Marriage 2.0" asks time and again, letting the viewer contemplate as India and Eric continue on their journey toward enlightenment. To the filmmakers' credit, opposing views are juxtaposed within the context of the story and all receive a moment of reflection.

"Monogamy and marriage are very cultural concepts," Chris Ryan, a real-life TED speaker and N.Y. Times' best-selling author who plays himself, explains to India in one of her interviews.

"I'm all for people living honestly until they stumble into a ditch together, but you show me one marriage that doesn't turn into a contest of sexual repression," suggests India's friend Athena, played delightfully by Andre Shakti, over a ladies-only lunch.

Chris Ryan later offers India these pearls of wisdom: "Change is never easy, especially when you're trying to change patterns that you've built up over other relationships over a whole lifetime…

"Sometimes the things we need most in life are the things that are hardest to give someone else. Freedom. Compassion. Understanding."

The director Deeb, an accomplished artist and musician with more than 25 years experience in the visual arts, teamed with director of photography Alex Ladd on "Marriage" for what often is dazzling cinematography that stimulates the senses.

Whether it's a joy ride up the coast in a convertible, an intimate clasp of hands, the subtle beauty of windblown leaves, or capturing the magic of the golden hour, not a single frame is wasted in this gorgeous, two-hour postcard from the city by the bay.

And while Deeb's breadth of experience may not be in directing hardcore sex, one would never know after seeing the performers lose themselves in orgasms and radiate sexuality in each scene.

The sex comes early and often, advancing the narrative rather than interrupting it. From India and Eric's first lovemaking session in the kitchen to their intense bedroom romp, this is as real as it gets.

But where the hardcore camerawork begins to really shine is in the second act when Eric and India agree to attend a lifestyle dinner party hosted by Edward's partner Meghan (Sadie Lune) that features sex as the main course. In what soon becomes a clinic on how to shoot a sex party, Deeb and Ladd smoothly usher viewers into various rooms as we follow India and Meghan as if we were there.

A BDSM-themed session featuring a blindfolded and bound Kara being dominated by Christian Wilde while Eric watches is just some of the sizzling kink expertly shot during the extended sequence. The tension builds as India slowly lets go of her inhibitions with Meghan's encouragement. She and Meghan spy Daisy Ducati going down on Beretta James. Then India takes a turn on the delicious Ducati herself and Meghan joins them.

Meanwhile, a threeway with Shakti, Jack Hammer and Mickey Mod erupts in another room. But it's when India later sees Eric banging Kara in the basement that it's just more than she can bear.

That pivotal moment ultimately leads India to the self-discovery she seeks. In one of the movie's signature scenes, she confronts Eric about his feelings for Kara and then kicks him out. Then she decides to try a date with Edward, who, sensitive to the situation, throws his support behind her relationship with Eric.

"I like the way you love Eric," Edward tells her. "It's deep, it's passionate. It's enduring."

They kiss, and head out to watch some live music, but India's mind can't help but wander. She fantasizes about Edward taking her in the ladies' bathroom and Deeb shows us the action. They decide to go to a movie, and in a slick and steamy sequence, India fantasizes about Edward ravishing her as the movie is playing. They end up back at India's place with Edward getting her off on the stairwell. ?

Summer, one of porn's most versatile performers, brings the kind of emotional range to the role that few actresses possess, while the consummate pro Driller simply doesn't miss a beat.

Together under Deeb's direction, they lift this film to exceptional heights and almost make one forget that a story about two people looking for and finding inner peace also included explicit sex.
Synopsis:
Wander the Internet or your neighborhood and it's clear: throughout our culture, much of what was true 20 years ago is not necessarily the case now. Our relationships, romantic and otherwise, are in many ways beginning to reflect these new realities. Set against the vivid, natural beauty of Northern California and San Francisco, Marriage 2.0 follows a couple (India Summer and Ryan Driller) on their search for personal freedom, emotional and sexual bliss within the context of an honest and committed modern relationship.
What makes Marriage 2.0 a different kind of relationship movie is its frankness; for all the pleasures of open relationships, jealousy and vulnerability do not magically disappear. This love letter to San Francisco — the cultural epicenter of the alternative relationship movement — suggests that the ideas of growth, novelty, and sexual adventure can exist within a millennial marriage.
Marriage 2.0 tells a story both timely and universal. In the company of its diverse and storied cast including: Ryan Driller, India Summer, Andre Shakti, Mickey Mod, Sadie Lune, Dylan Ryan, Beretta James, Daisy Ducati, Christian Wilde, Juniper Gold and erotic cinema legend Nina Hartley; accompanied by many luminaries of the sex-positive community, including Carol Queen, Emily Morse, Reid Mihalko, and noted TED speaker and author of the NY Times best-seller Sex At Dawn Christopher Ryan, we are invited to celebrate a modern redefinition of the committed relationship – as a dynamic springboard for adventure, where unfettered physical and emotional intimacy can fuel our passion while strengthening the bond with those we love.