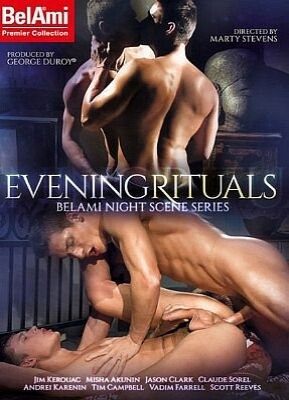 Known just as much for its bright and colorful imagery as it is for its smooth studs, Bel Ami shakes things up with its Night Scene Series. These four entries have a darker look, adding an energy you don't see as much with the studio it amps up the romantic. There are still bursts of color like the bright orange boxer briefs of Jim Kerouac, getting tighter by the second with his growing bulge (which he rubs on Misha Akunin's leg).

After spiraling his long, talented tongue on the smoothie's tight pink hole, Kerouac unleashes his beautiful slab soon buried inside Akunin's mouth. The jock sucks him back, flashing a wicked smile up at Akunin before fucking him from behind the headboard shaking as he goes harder and faster. The camera lingers on a shot of the top's gorgeous glistening backside, light hair visible on his smooth muscles. (This stud steals the spotlight here.)

Also standing out is dark-haired Vadim Farrell, whose hot, big- headed cock works its way into both of Marcel Gassion's holes. The hottest shot has Gassion sitting down on the top's cock, their hands clasped atop the bottom's leg as he rides. Andrei Karenin shootsa big, goopy load all over Tim Campbell's hairy hole, while tan top Jason Clark keeps his glasses on (a very hot look) throughout his scene with Claude Sorel.
Synopsis:
When night falls, BelAmi rises!