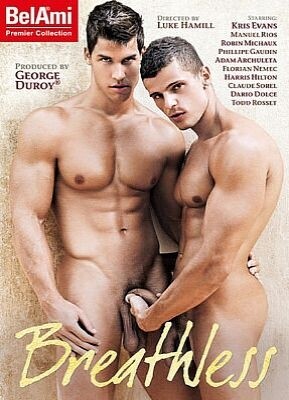 Kris Evans must be Superman. There's no other excuse—that dashing and darkly handsome face, the body etched from stone, those mammoth cum- shots. He gets three gushers here, one coming as after he fucks Manuel Rios (who gets coated from the hair on his pubes to the hair on his head), and two coming in his memorable scene with Harris Hilton and Phillipe Gaudin. That great threesome opens with every suck combination possible—the second-hottest shot finding Gaudin on his knees with two big ones coming at him from each side. The hottest shot? Either of Evans' squirts. With his two buds on both sides of his dick, he fires off a rocket that douses and drips down his own chest—the load also hitting both of his suckers (right after Gaudin gets a thick white wad on his chin from Hilton). Evans then shoots a load on Hilton's hole after fucking him.

The uncontrollably cute pairing of Robin Michaux and Todd Rosset (those smiles! those faces!) is almost too hot to look at, while Adam Archuleta fucks both of Claude Sorel's holes. The romantic finale starts with Florian Nemec rubbing a rose all over Dario Dolce's smooth, tan bod, his uncut cock pulsing. He then fucks the hell out of the bot- tom, with Dolce coming four times (we think; we lost count) in an impressive display.
Synopsis:
10 boys, 5 unforgettable episodes. Who'll leave you breathless?