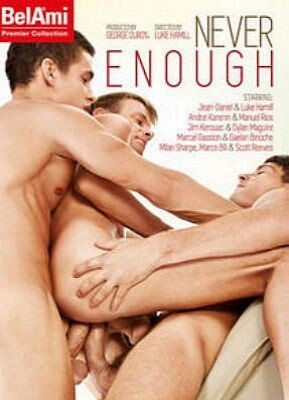 There's a reason Bel Ami shows blond bottom Milan Sharpe getting two sizable cocks up his ass on the box cover — it's the most memorable sequence of many in this five-scene entry, the threesome starting things off with a bang. After Scott Reeves and Marco Bill take turns sucking Sharpe's cock, they take turns on his ass — Reeves' monster balls bang beautifully against the bottom's smooth backside, while Bill delivers a big facial. But insatiable Sharpe isn't done and wants another round, starting off by sucking both tops at the same time — their big dick heads touching as they warm up in his mouth. The bottom then opens up his hole wide, taking both dicks at once (in two positions, very impressive) before they douse his hole with cum. Yum!

Also going for two rounds are Manuel Rios and Andrei Karenin, who take turns fucking each other Director Luke Hamill fucks Jean Daniel, squirting on the bottom's hole; while Gaelan Binoche uses his girthy tool to pound newbie Marcel Gassion, giving him a big, sticky facial. Also watch as the stunningly handsome Jim Kerouac takes control of twink Dylan Maguire, who licks the top's tight abs and cock before getting stuff.
Synopsis:
Sometimes You Just Can't Get Enough! A Flip-Flop, A Double Penetration And Lots More!