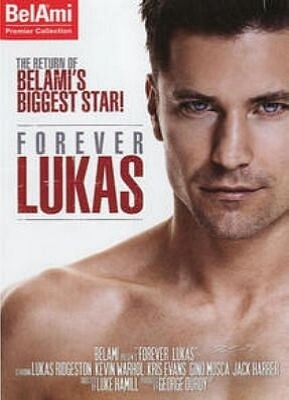 Yeah, this is kind of a huge deal. Lukas Ridgeston not only built the Bel Ami name when he started in 1993, he is also widely regarded as arguably the greatest porn star ever. His presence was felt even after he stopped performing in 2005 to begin a successful directing career. His (apparent) one-time return here will cause gay gasps around the world, and will likely garner him plenty of new fans eager to check out his catalog.

The man looks even better today at 40 than he did 20 years ago — he's stunning. Whether it's his crystal blue eyes, his chiseled frame or his gorgeous cock, he's impossible to look away from (when he smiles, you'll melt). This six-scene entry takes a laid-back approach and is structured around his return, with models vying for the chance to get into his pants. After two scenes without him, we finally get a glimpse at the man's unreal body as he takes a shower — something I could watch on a 24-hour loop. A side-by-side stroke with Kris Evans is followed by a fuck of Jack Harper, who then gets fucked by both. The finale has Kevin Warhol getting plowed by the superstar, the action preceded by a great "impromptu" interview of Ridgeston built into the film. "It's not just how much you do," he advises. "It's how good you are."
Synopsis:
It's the porn event of the decade! This is the return of Belami's biggest star!