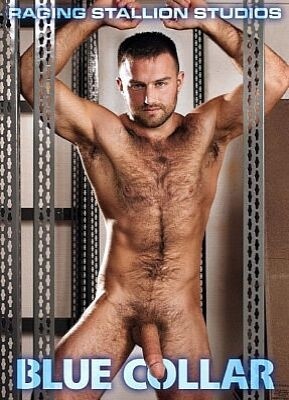 Bravo to Steve Cruz and whoever help him cast this four-scene entry set in a warehouse stockroom — the men here fit that "blue collar" label perfectly, and the cast just happens to have three of my absolute favorite studs in the business (how 'bout a foursome, hmm?): the handsome trio of Bo Dean, Hunter Marx and Damien Stone, all built and toned without looking unnatural, with just the right dusting of chest hair and killer cocks that deserve non-stop worshipping. (Phew! It's getting warm in here!)

The tattooed Dean gets things started with hairy Heath Jordan, who slurps on the stud's beautiful dick. Dean has sides both sensual and aggressive, an alpha male who isn't afraid to show some tenderness (his holding of Jordan's forearm as he gets sucked is a great touch). The camera is in love with Dean's sensual stare, tight abs and cock, which is caught in a bevy of beautiful shots. Marx rocks an equally stunning chest and cock, but it's that killer smile that's his biggest weapon. And dark-haired hunk Damien Stone shows off a slightly more verbal side than usual, which we like a lot. His bod and cock are perfection, and he fucks like a champ (watch his shaft disappear inside Shay Michaels: "Balls deep! C'mon!).
Synopsis:
Everyone knows blue collar workers are the ones who always get the dirty work done. This brawny crew of working stiffs get the really serious labor done - with each other - working on each other when they have a moment of free time. Their daily grind turns into grinding, and they know how to sweat and muscle their way through their work-"loads." These are the rewards of their intense efforts.