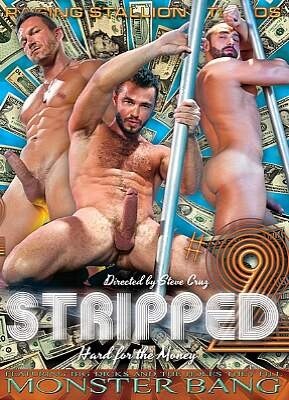 We get the sense that Jessy Ares has worked his way around a pole before. That's evidenced not just by his opening tease of a dance where he gyrates his uniformed muscle bod around a stripper pole, but by the adept sucking he displays as he wraps his bearded lips around the sizable slab of trim Jeremy Stevens — a smooth and tattooed cutie who has been handcuffed to said pole. The stripper then forces his admirer down to return the favor. A fantastic fuck follows.

The flick also opens with an attention-grabbing sequence: Fabio Stallone and Logan Rogue kiss, their cocks dangling in front of Tomas Brand — who soon slurps them up. A hot suck sequence follows (Rogue has a fun time pulling up Brand's foreskin, twirling his tongue inside) before all three end up bending over in a hot display of versatility. The massive muscles of Zeb Atlas put on a show for Marcus Ruhl, who gets both of his holes filled
Synopsis:
The beat goes on and jism flows 'round the clock as strippers tease johns out of their dollars and johns tease strippers out of their clothes. In Stripped 2: Hard for the Money, from multiple award-winning director Steve Cruz, distinctions between customer and dancer get lost as clothes pile onto the floor and limbs entwine. In this Monster Bang release, the cocks are huge, and everything is a blur of perpetual motion — on the stage, at the bar, on the floor of the club or wherever bare flesh can meet the same. Tomas Brand, Logan Rogue and Fabio Stallone can't wait for the customers, so they serially fuck each other to pass the time, leaving the air ripe with the scent of spooge and satisfaction. Jessy Ares plays "bad cop – bad-ass cop" with shy patron James Ryder, who needs to be shown what he wants. Zeb Atlas and Marcus Ruhl pit a collective quarter-ton of muscle against each other in a grueling fuck that would squash lesser men. Finally, mega-hung Jimmy Durano tells barkeep Jeremy Stevens he wants him and he won't take no for an answer. It's a tossup whether Stevens' fountaining orgasm is due more to the fat cock up his ass or the rimming that preceded it. Stripped 2: Hard for the Money gives you a look inside a strip club where massive cocks and hot sex always take center stage, and the prime directive is to have you cumming all night long!