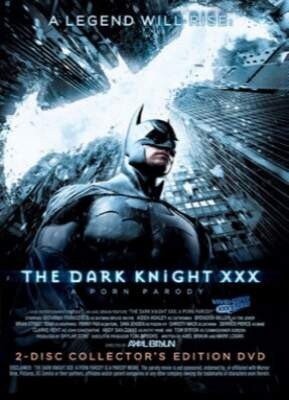 Director Axel Braun's "Dark Knight XXX" sets the bar for adult parody filmmaking for a variety of reasons, including its inspired make-up and wardrobe, visually engaging and fun set design and formidable acting and performing talent. However, most impressive is Braun's ability to present a parody that is faithful to its source while bringing fresh ideas to the table and never — not once — forgetting that it's still a porno.

Directing from a script he co-wrote with Mark Logan, Braun covers a lot of the groundwork laid in Christopher Nolan's "Dark Knight" trilogy with a taut, satisfying story that allows for creative and bold sex scenes guaranteed to get comic-geeks and cos-play enthusiasts off for years on end.

"Dark Knight XXX" finds Bruce Wayne (Giovanni Francesco) living in self-imposed exile away from Gotham City in a cabin high up in the snow-crested mountains. He regrets his Batman alter ego, believing it has led to the rise of more dangerous, bloodthirsty criminals eager to destroy all he holds dear. Unfortunately, Wayne's plans to brood in peace are disrupted when Catwoman (Aiden Ashley) informs him that a terrorist by the name of Bane (Derrick Pierce) has taken his ex-fiancée, Kathy Kane (Andy San Dimas), hostage. Wayne has no choice but to return to Gotham as the caped crusader.

While the film's CGI and fight sequences leave a lot to be desired, the acting performances are the best to be found in adult. Francesco as Wayne/Batman emotes torment and sorrow (and does a pretty good job of mimicking the Dark Knight's barking tone). Brendon Miller does a remarkable job of channeling the late Heath Ledger's Joker, madcap mayhem and all. His onscreen partner Penny Pax also shines as Batgirl Barbara Gordon, Commissioner Gordon's daughter.

Miller and Pax also share the film's kinkiest and hottest scene, in which the Joker ass-fucks Batgirl while her father, imprisoned in a cage, helplessly watches nearby. Batgirl hopes that The Joker will show mercy and release them in exchange for submitting to his deviant desires, but is instead rewarded with a bullet to the spine. A three-way with Bane, Catwoman and Kathy Kane is also rewind-worthy.

"The Dark Knight XXX" was produced months before the release of Nolan's "The Dark Knight Rises," the third and final film in the Warner Bros. franchise, leaving Braun blind to that film's storyline. But fear not, Braun and Logan leave their take on the Dark knight legend open ended for more sequels to come.
Synopsis:
A porn parody featuring a better Batman costume than its mainstream counterpart? A Catwoman who can actually kick ass? Zatanna? John Constantine? Nightwing? Poison Ivy? Batgirl? A Bane who can give his Hollywood counterpart a run for his money, and a Joker who's creepier than the late screen legend? Welcome to the Porn Parody event of the summer! From adult powerhouse Vivid Entertainment and undisputed parody king Axel Braun, comes another epic exercise in geekgasmic film spoofing: THE DARK KNIGHT XXX."