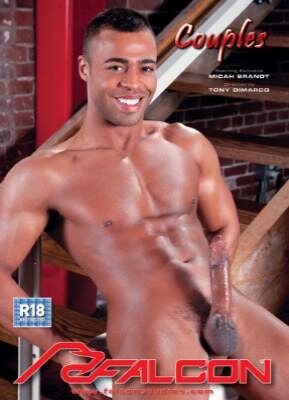 Trey Turner isn't stupid... with a slumbering Landon Conrad in bed, he wastes no time waking up the handsome hunk (his method of choice: a nipple lick) for some play in this four-scene romantic effort. When the sheets come down, Turner also finds a real site for horny eyes: the very plump, very stiff rod of the reliably hard Conrad, who I'm surprised doesn't pass out from the blood rush to his steel shaft. Trey opens wide and goes down deep, then gets his ass eaten before sitting down on Landon — the camera focusing on that thick beast in the center of the action.

Also making his presence known is verbal bottom Micah Brandt, who lets out a stream of steamy exclamations as he gets worked over by the uncut cock of dark-haired Dylan Roberts: "Oh Jesus! Oh God you feel so good! Fuck me deep!" moans the increasingly breathless Brandt, who is never at a loss for enthusiastic words. "My ass is yours! Take it...you fuckin' stud!" That makes the scene even hotter, and you may feel like you're intruding on their passion. Angelo Marconi goes down on Topher Dimaggio, the two clasping hands on Topher's pec (aww!) before Marconi bends over, fingering his hole and feeding it to the top before getting fucked (dirty!). Bryce Star rides Boston Miles in another memorable encounter.
Synopsis:
Falcon Studios brings you steamy duo action with "Couples". Hot, beefy guys sucking, rimming and fucking for your enjoyment.