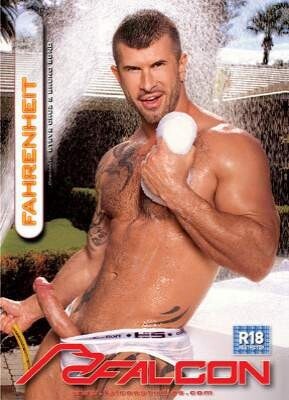 mark my words: when award season comes around, expect adam killian to rack up some Best solo citations for his opener here, where he bursts out of his briefs as he hoses down himself — and a white mustang convertible. This man is a master, working both hoses — and the car — like a pro, whether he's sudsing himself down, grinding up the hood and windshield or whipping his boner from side to side as he leans against the sports car. Phew...it's getting warm in here! This stud knows how to tease us, and it's to his credit that he makes the car turn us on, too.

if that combustible scene wasn't enough, you also get two with chiseled D. o. — who first fills the holes of the very enthusiastic micah Brandt, whose excitement is apparent from the opening seconds ("Use me! c'mon...fuck my face!"). He moans his way through the scene, raising the energy to even more excitable levels (and check out those squirts!). D.o. later tops smooth kyle Quinn, spreading his ass wide as he plows it, while killian holds up smooth lucas young (another verbal bottom) for a mid-air 69 before fucking him. Trey Turner rams Trent Atkins by the pool to round it out.
Synopsis:
The temperature is rising and this group of studs sends the mercury even higher with scorching action. Every scene gets hotter than the previous, as each heated sexual exchange builds to a fiery frenzy. With exclusives D.O. and Micah Brandt, as well as fan favorite Adam Killian headlining the cast, nothing's gonna cool down until all the guys reach their boiling point and shatter their thermometers. This DVD will get you fired up.