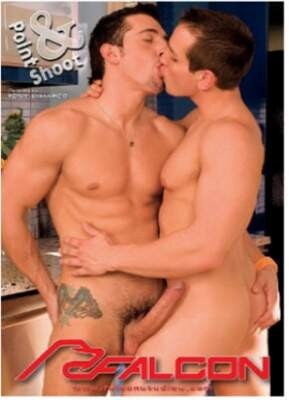 Dirty deeds captured on a camera lead to some sexy shenanigans among a group of friends. This five-scener is highlighted by a dream pairing of two industry superstars: Landon Conrad and Dean Monroe, who looks as dashing as ever. Monroe films Conrad munching on his foreskin (the models' POV footage is interspersed throughout the scenes), the two soon sucking face as they stroke their stiffies together (that shot alone is enough to make you squirt). Monroe sucks his bud back, then offers his ass. Watch for a great sit-down sequence, then marvel at the glory of Conrad's body as he strokes out his load it's caught in a particularly stunning shot that makes you appreciate how gorgeous he truly is.

Jimmy Durano (the horndog who gets the whole thing started) plays easy to get with hotdog-munching hunk Dylan Roberts: "The kind of hot dog I want is different than that!" (And if you don't love dialogue like that, there's something seriously wrong with you.) Durano wraps a bun around his dick as Roberts sucks, then plows him in the kitchen. The top also enjoys an oral encounter with cute boyfriend Marc Dylan, then later jacks off as he films his BF getting fucked by Alexander Garrett. Blond basketball player Cameron Foster also gets a lesson in ball control from hung top Trevor Knight.
Synopsis:
When Landon Conrad, Dean Monroe and three of their sex-hungry buddies spend a long weekend in San Francisco with cameras in hand, expect a sexy, picture-perfect chronicle of all their adventures! Dean and Landon go through cameras to see the photos and videos their friends have been taking and reveal their hot escapades. In the super-sexed finale, Dean and Landon are so turned on by what they've seen that they decide to make their own video...they Point & Shoot a spectacular scene to rival all their buddies'.