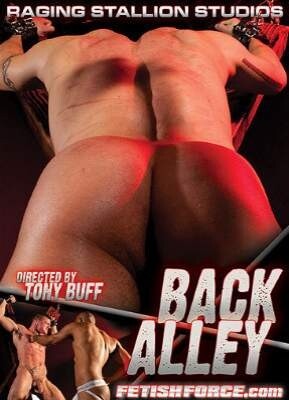 You can see Tony Buff's nasty influence even when he isn't on screen. Case in point: The opening scene of this extreme effort, where a hooded Race Cooper gets abused by the hands of Felix Barca. With just a few flicks of the nips, Cooper is already writhing. Barca then clamps Coopers nips, slaps his sac and attaches a heavy contraption to the sub's balls getting him to groan even louder. As a reward, Cooper's hood is removed revealing his ball-stuffed mouth. He's soon feasting on a different set of balls as Barca feeds him, Cooper munching on the foreskin before a stream of piss flies into his mouth. The dark-skinned stud then offers his hole for Barca's thumb a warm-up to the huge dildo and fist that soon follow (impressive!).

Buff then gets out of the director's chair to tie up smooth jock JR Matthews, who dangles in a rope sling as he gets fucked by the top's juicy cock. Jesse Santana, becoming more buff and bad with each film, then shows off his tough side as he submits to Leo Forte who clamps his captive's nipples before pissing in his mouth, slapping the bound smoothie around as the dirty talk intensifies. It all culminates with a flog-and-fuck session that leaves Santana soaked in sweat, sores and more piss (ouch!).
Synopsis:
This is one alley you'd better avoid unless you're into some serious fetish sex like...whipping, cock and ball torture, foreskin biting, watersports and piss drinking, to sucking, cum eating, impact play, tit torture, spanking, flogging, bondage, and fisting! It's heavy duty rough stuff for intense, kinky guys and not for the faint of heart! Walk the line between serious pain, wicked nasty, and intense decadent man pleasure!