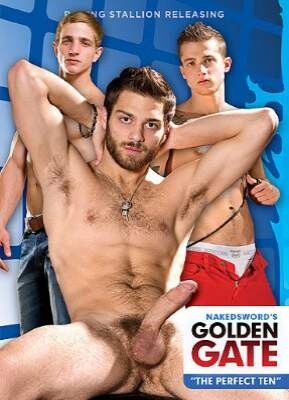 The second installment of this Raging Stallion/Naked Sword series presents five more vignettes that live and breathe San Francisco, a voiceover setting up the scenes and themes. Tough guy Tony Buff seduces Mormon missionary Riley Price in a scene sure to gain a lot of attention. It builds with Joe Gage-like tension, and Price shines as he tries to fight his urge (he sells his nervous excitement perfectly). The shot of him staring at Buff's boner — just inches from his face — is unforgettable, as is the lengthy suck that follows (open wide, Riley!). Price then moans like he means it as Buff gets a crack at the blond bottom's ass ("I've always wanted to fuck a Mormon!").

Equally engaging is the connection between former college roomies Tommy Defendi and Chris Porter, who reveals his crush as the passion builds nicely before Defendi ("If it's warm and wet, I'll stick my dick in it!") tops the cutie. Hairy jock Colby Keller pleases Brit visitor Ashley Ryder in the kitchen (one aerial in particular is incredible, Ryder repeatedly sliding back on Keller's monster shaft and making it disappear). Jesse Santana flip-fucks with sexy Sage Daniels, while Marcus Mojo shows off his topping skills on Jake Lyons. A second disc offers nearly two hours of solos (highlighted by Keller's amazing, suds-soaked bod) and 22-plus minutes of behind-the-scenes footage.
Synopsis:
Return to the land of impulse and desire in Naked Sword's hit series "Golden Gate". Ten guys, 5 scenes, 9 solos, and over 4 hours of content! More chance encounters, simple fate, or divine convergence that forges these horny guys together.