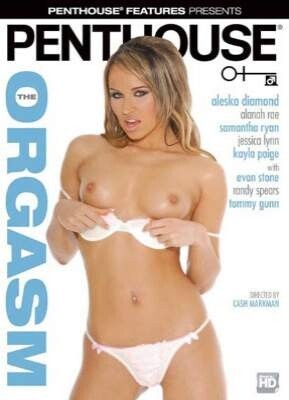 Renowned porn performer Randy Spears pokes fun at age and career in writer/director Cash Markman's hilarious new sex comedy "The Orgasm." Playing an embittered and downtrodden caricature of himself, Randy tickles the funny bone and tugs the heartstrings with a frenzied performance that will touch a nerve with all those who have ever felt past their prime.

"The Orgasm" finds Randy in a foul mood. He's lost his 25-page script, his body aches and won't hold up for more than two positions, and — despite his best efforts — he just can't connect with his pretty young co-star Jessica Lynn. To make matters worse, his Viagra is about to wear off and the project's A.D. is threatening to replace him with Evan Stone.

Evan, who plays an exaggerated rock star version of himself, is eventually hired to step in for Randy after the old sap suffers one final tragic blow. The scene, which finds Evan in a giant banana costume fucking Samantha Ryan, is, well, absolutely bananas.
Synopsis:
Penthouse brings you an up close, behind the scenes look at the hottest girls in porn banging comical cocks to achieve the ultimate orgasm. Jessica Lynn is a cock craving clown whore who takes this bozo's load in her mouth! Aleska Diamond pops more than balloons! Samantha Ryan gets her salad tossed! Get wet with Kayla Paige while she takes on a big jock's cock! Alana Rae squeezes the juice out of this fruit—right onto her tits!