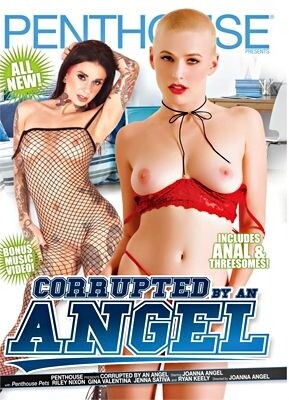 Shy, sweet Riley Nixon is getting no fun out of college life. "There's a craving inside me to learn things I won't learn about in school," she muses. Then, Joanna Angel arrives to show her how to loosen up and enjoy herself. As she becomes corrupted, it's clear Riley loves every minute of it.
When Riley runs into Joanna putting up flyers for her band, The FuckFaces, Joanna suggests she seduce one of her professors, played by Tommy Gunn. Riley bends over so he can see her exposed pussy. He takes her into the bedroom that seems to be attached to his office, where she blows him expertly.
Riley loves Joanna's company but Ryan Keeley, Riley's mom, thinks she is destroying her daughter's future. So of course Joanna has to seduce mom, which she does in a very hot lesbian scene, with Joanna screaming as Ryan digs her tongue into her pussy.
"My life for once is unpredictable chaos, and I'm addicted," Riley tells Joanna, who invites Small Hands to join them for a climactic threeway featuring lots of anal sex. Joanna shows Riley how to take it in the butt and both ladies love every inch of it. It's a sizzling conclusion to this bittersweet coming of age tale, well-directed by Joanna.
Synopsis:
You've loved thier mags, now enjoy watching AND listening to these Punk girls, as they ROCK the cock. Includes an anal threesome!