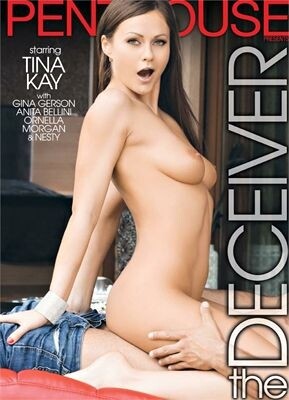 This foreign feature centers on a satanic drifter, with a cast of fine looking women and plenty of energetic sex. The plot is narrated via a voiceover, concerning a "creepy old dude" who comes from nowhere and "turns the town upside down..."
The Deceiver (played by one-time Europorn super-stud Bruno SX) knocks on the doors of various couples and presents them with a small wooden box whose contents provoke an extreme reaction but are never actually shown. The purpose it seems, is to make them have sex.
A bearded young man teaches a cute girl to play violin. Deceiver knocks at his door, leaves him the box, they make out and fuck. This happens in all five scenes. The best one features great-looking cover girl Tina Kay as the local "arrogant bitch." When she gets the box she's inspired to fuck the gardener, who is pruning a hedge nearby, shirtless. The hottest scene.
Finally, the town's mayor becomes involved, getting blown by his secretary before he even gets his pants off. The final scene has cute blonde Europorn star Nesty making out with a nerdy looking guy outdoors on a picnic table. The moral, says the voiceover: "If an old man knocks on your door offering you the thrill of a lifetime, refuse it."
Synopsis:
Don't be deceived by their sweet, innocent looks. These girls are downright filthy when you get them in the sack! There's nothing they won't do in the name of pleasure!