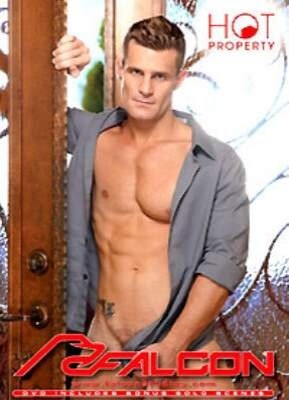 How many reality innuendos can you squeeze into 90 minutes? Quite a lot as it turns out ("Is it big enough for your needs?"). Landon Conrad stars as the "Full Service Realtor" who demands satisfied customers. He starts by charming his way into the pants of tall and trim house photographer Jake Steel, the two trading sucks before Steel sits down on Conrad and bounces away — finally getting coated by a huge stream from the top. Conrad returns in the finale for a rare bottoming, and it's amazing how stiff and beautiful his rod stays as he gets fucked by verbal jock Brad Star ("Ride that fucking dick!"). Conrad's cock pulses, as does the vein on his sweaty forehead.

Also included is a dream pairing: hung, tan studs Rafael Alencar and Roman Heart get busy at the base of a stairwell — and boy does Heart look precious as he gags and gasps for breath while getting his pretty little face fucked. Heart also lets out his signature sultry moans as he gets plowed balls-deep by Alencar's thick beast, which dumps a load all over the bottom's face and chest. Rounding out the action is a kitchen encounter with hairy mound of beef John Magnum grabbing cute client Dylan Roberts' ass — which he proceeds to pound over the counter. Solos from Alencar and Steel appear as extras.
Synopsis:
Anxious to score a big sale after putting his Hot Property on the block, Roman Heart enlists hunky realtor Landon Conrad to help him out. Together the two men discover the lusty ups and downs, wheeling and dealing, and sexual supply and demand aspect in promoting the prime real estate in an ever-growing, ever-changing market. Landon Conrad hires photographer Jake Steel to shoot some pix of the hot property he's trying to unload..and then in the master bedroom... Roman Heart opens door to find the movers have arrived. Studly Rafael Alencar gets started packing and getting the heavy boxes ready to be picked up. The work is strenuous so Roman suggests Rafael take a break... John Magnum takes prospective buyer Dylan Roberts through the house, showcasing its many features including the large kitchen with its top-notch appliances and marble countertops. Dylan likes the house, but is showing more interest in the big-muscled realtor. Landon Conrad's scored big time as Brad Star eagerly snatches up the hot property; Landon suggests to the new homeowner that they break in the house with a celebratory suck-n-fuck. Plus two bonus solos with Rafael Alencar and Jake Steel.