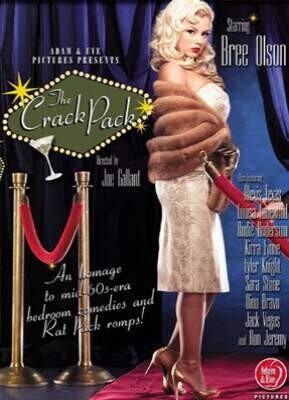 Vegas, baby. Long loving helicopter shots over the Strip segue into black-and-white images of "The Gang": tuxedoed singers Dino Bravo, Tyler Knight and Jack Vegas fronting a big band and crooning "That's Why I Love Vegas" as scantily clad waitresses cavort.

The meandering storyline — remembered in flashback by Bravo — starts with manager Ron Jeremy's declaration that the guys should audition "some broads" to add to their act. Bravo latches on to maid Bree Olson, first in a three-way with Alexis Texas, and then marrying her. Andi Anderson auditions for the three (mostly Vegas) in Jeremy's office; serial monogamist Bravo — divorced from Olson — has a tryst with Sara Stone; Kira Lynne blackmails herself into an audition with Knight; and Olson, on her way to Europe, hooks up with Bravo for a goodbye fuck.

Stylized camera angles and clever sight gags captivate the eye and establishing shots actually shot in Las Vegas add an air of authenticity. The live music is a bonus.

Second disc includes outtakes focusing on Olson, two behind-the-scenes featurettes, a complete onstage routine by "The Gang," a deleted sex scene, a bonus scene and a stills gallery.
Synopsis:
Remember when sex was dirty and Vegas was for adults-only? This homage to mid-60s-era bedroom comedies and rat-pack romps features porn's 'It' gal Bree Olson (enough said!), live orchestra and combos, musical numbers, steamy burlesque and Vegas show-style dance routines. Snappy dialogue, lots of lingerie, slow stripteases and foreplay, period costumes, live song/dance set-pieces and a sub-plot involving 'a heist' make The Crack Pack a fun and very sexy new project!