Chris Kalev wants to get you pumped — pun absolutely intended. As co-owner and general manager of L.A. Pump, Kalev understandably knows his way around a cylindrical tube or two.
"Pumping is such a complex subject," Kalev said. "There are so many reasons to do it."
The quality is what is always appreciated the most. The quality and creativity.
Since 2011, Kalev has been the multi-tasking face behind the top boutique company for putting body parts in a vacuum. As brand ambassador, purchasing expert, and behind-the-scenes business guru, Kalev has grown L.A. Pump from niche fetish oddball to the go-to brand for quality-seeking kinksters.
"L.A. Pump had been in business for over 18 years [when I joined], but there were many, many stores that did not know our name," Kalev said. "Brand recognition was something we were lacking. I set out to change this."
And change it, he certainly did, but before Kalev could preach pumps, he was busy taking on British music chart TV show "Top of the Pops."
Kalev's career path is a bit off-the-wall even for a pleasure industry veteran. He had somehow never even encountered sex toys while touring the world with Boomkat, an electronic pop group signed to the now-defunct Dreamworks label. Kalev's passion for DJing put him on the music map during the early 2000s, but found himself out of a job when record sales tanked.
"We were on 'Jay Leno,' 'Top of the Pops' in the U.K., and various other live shows. Needless to say it, was an amazing experience," recalls Kalev. "Sadly, all good things must come to an end. Our album sales were low, and the labbel did not want to produce a second album."
Using the last of his savings, Kalev took some time off and worked on his next move, which turned out to be an introduction to the rest of his life. While looking for a new gig to support himself as a business school student, Kalev stumbled upon big-name fetish retailer The Stockroom in an ad seeking warehouse staff.
"I found a very interesting job posting, and that post was the first time I had heard about a 'sex toy," says Kalev. "I had to apply!"
Kalev launched himself full-force into his new career, quickly climbed the ranks from back-room shipping to customer service to eventually running the company's purchasing department. His business studies could barely keep up with Kalev's thirst for knowledge as he began the tedious process of becoming a self-taught purchasing director.
"I immersed myself in everything purchasing. Books about procurement, negotiating, anything that would help me hone my skills and do my job as best as I could," recalls Kalev. "From there, I moved on and became purchasing and inventory control manager at Sportsheets."
The sex toy industry's tradition of mixing business with pleasure came in handy when a former customer and friend — L.A. Pump's owner Charles Nicholson — contacted Kalev.
"Charles and I stayed in constant communication after I left Stockroom. We would try and talk once a month and just chat. This call felt different, though," says Kalev. "I could hear in his voice something was wrong."
Nicholson has been diagnosed with kidney cancer and was yet to be given a prognosis for recovery. Prompted by uncertainty, Nicholson recalled an exchange with Kalev that he had mostly laughed off at the time.
"He asked me if I remembered a conversation we had years back about what I could only assume was a comment I made in jest; about one day coming over and helping him run L.A. Pump," says Kalev.
Needless to say, he leaped at the possibility of managing the company. In May of 2011, Kalev and Nicholson entered into a two-year contract that shaped the history of one of the sex toy industry's most well-recognized products.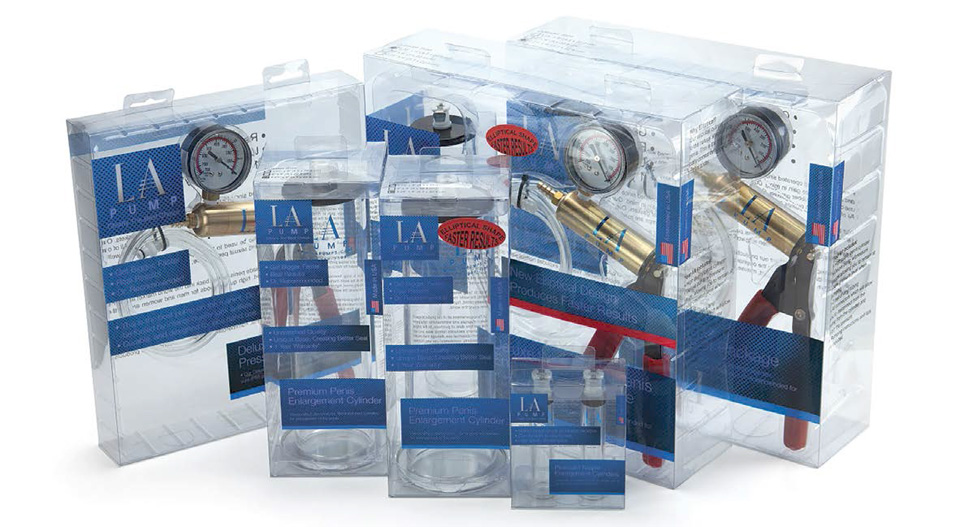 "No risk, no reward" has been Kalev's motto since his pop star days, and it's certainly paid off. It took Kalev the full two years of his contract to learn the front and back-ends of running a niche business. At trade shows, retail management training and consumer-facing events, Kalev plays the roles of sex educator, salesman and expert marketer. Just last year, Kalev sealed his partnership with Nicholson and became co-owner of L.A. Pump.
"Why did Charles choose me? I ask myself that everyday," says Kalev. "I like to think it is because he knew I would always maintain a commitment to excellence in service and quality. He saw a hard worker. An honest man. That's what I like to think. Ha!"
Kalev's life has been — pun also intended — under pressure from day one. According to Kalev, though, that's just what motivates him, for better and for worse — although he credits the latter with pushing him the extra mile.
"My father was never around. I met him once in my life, when I was 14, at a child support hearing where he claimed I was not his son," remarks Kalev. "The blood test proved him wrong."
Such an upbringing is often a recipe for ruin, but it served as a warning to Kalev: do better, or follow in deadbeat footsteps.
"I want to be proud of myself. I want my sons to be proud of their father," says Kalev. "Helping people really motivates me. I enjoy — truly love — what I do."
The helm of L.A. Pump is a rather complex position to hold. Vibrators practically sell themselves; body pumps require working knowledge of the human body.
"Product knowledge and knowledge about pumping in general is so important," says Kalev. "It is important an employee knows the right questions to ask a customer when helping them look for a pump."
Since Kalev's take-over of the company's mission, the brand has expanded their consumer reach, marketing initiatives and product range. He has crafted new slat-wall packaging, pumping kits for beginners, and a comprehensive training program for retail staff. Think pumps are only for penises? Think again.
"We make so many unique cylinders. Cylinders to pump the penis and testicles together. Cylinders to pump them separately. A cylinder to restore your foreskin, a cylinder; for trans men, a 'rosebud' cylinder. The list goes on and on," notes Kalev. "The quality is what is always appreciated the most. The quality and creativity."
Although Kalev has (mostly) left his pop star persona in the past, he's never one to shy away from the spotlight. Wherever you spot L.A. Pump in person, you'll be met with Kalev's enthusiastic personality, and a passionate speech on the power of pumping.
"[My personal goal is] to keep L.A. Pump relevant for the next 40 years," remarks Kalev. "I help couples have better sex. I help men with erectile dysfunction. I help people feel better about themselves. I never settle for anything less."