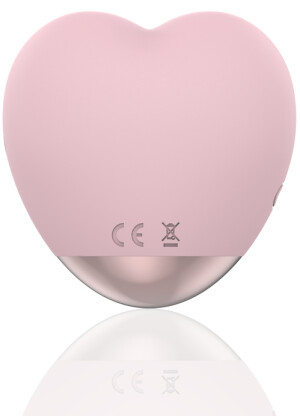 Instead of uttering into a lover's ear that "you're a sweetheart," you'll be whispering that to yourself when you hold this darling little, palm-sized cutie in the middle of your hand and travel to Orgasm Land. Slide it all over your body for a relaxing massage or slip it into your palm to turn your partner on to the joys and pleasures of vibrators. Ten speeds give you the variety of slow and gentle to the pulsing beat of a heart. I love the simplicity and ease of use with the hand-y size and single button on the side. The discreet design and appealing heart shape makes it a lovely gift, too!

For more information, contact Thank Me Now:
Manufacturer Description:
Sweeter than candy, and soft to the touch, You're a Sweetheart Palm Vibe is your new vibrator-crush! The Sweetheart is a heart-shaped, firm-bodied, palm-sized silicone vibe that feels like heaven on the skin with its velvety-matte finish. Its powerful motor is discreet and quiet yet packs a punch. And it's cute to boot! An external vibe of many talents, you can press the Sweetheart gently along the base of the neck, along the shoulders, and back to work out stubborn knots; trail seductively across the nipples and knead against pleasure points to enjoy satisfyingly rumbly vibrations. The Sweetheart is our ever-loving valentine here to lend a helpful hand on indulgent self-care Sundays, (ok, ALL the days), and to remind you that you always come first.

Copyright © 2023 Adnet Media. All Rights Reserved. XBIZ is a trademark of Adnet Media.
Reproduction in whole or in part in any form or medium without express written permission is prohibited.