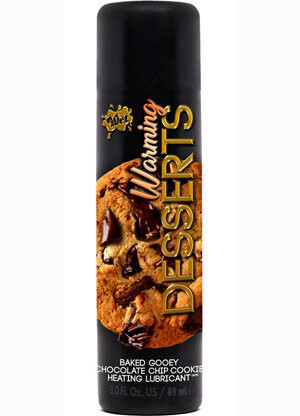 Ooooohhh! Just what I love: delicious, calorie-free, water-based chocolate chip cookie flavored lubricant to make any oral sesh that much yummier! Put more lovin' in the oven with the home-baked flavor and sensation of warm cookies but without the mess of melted chocolate on your fingertips. Blow on it for an even more, oven-fresh, just baked sensation guaranteed to satisfy that hunger for something sweet and tasty. Best of all, it's perfect for that trendy Keto diet you're on!
For more information, contact Trigg Laboratories:
Manufacturer Description:
Satisfy your sweet-tooth with WET® Warming Desserts® Lubricants. Choose from the delectable flavors of Slow Baked Hazelnut Soufflè, Fresh Delicious Donuts, Baked Gooey Chocolate Chip Cookie, Warm Homemade Cinnamon Roll, and Oven Baked Apple Pie À La Mode. Heighten intimacy even more by sparking a gradual warming effect that activates with motion. Latex compatible, easily washable, and sugar-free, this lube line will leave you heated and satisfied.

Copyright © 2023 Adnet Media. All Rights Reserved. XBIZ is a trademark of Adnet Media.
Reproduction in whole or in part in any form or medium without express written permission is prohibited.