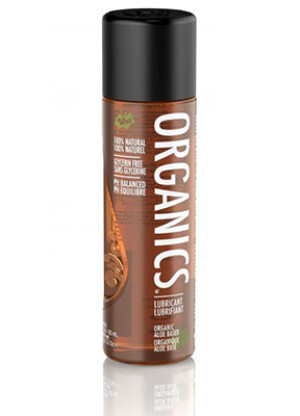 I love this lube! It's an organic aloe-based lube that's sure to slide into action.
The best part? It's good for you! This stuff has a proprietary blend of green tea, hemp, quinoa, oats and flax seed extracts, along with antioxidants and vitamins; sounds like a tasty meal! Speaking of meal, my partner and I had so much fun with the Organics lube; it didn't taste or smell bad at all. It seemed to have complemented the natural moisture of our bodies very well and the cleanup wasn't hard at all; it wasn't sticky but it was very slippery, which is what I expect from a good lube.
Who would've thought that a lube can help the glide as well as moisturize your body while providing nutrients? This lube is everything!
For more information, contact Trigg Laboratories:
Manufacturer Description:
Wet® Organics™ is a unique Organic Aloe based Lubricant that is 100% Natural. This lubricant formula rejuvenates your skin & your senses. It's latex friendly and rinses away easily with warm water, leaving your skin feeling soft, never sticky. Wet® Organics™ can be used with most toys.
• pH Balanced
• Optimal Osmolality
• Gluconolactone

Aloe Based, Wet® Organics™ is compounded with high-grade extracts of organic quinoa, hemp, flax, green tea and oat extracts rich with vitamins & antioxidants that moisturize, protect and rejuvenate your most intimate areas.
The all-natural ECCOCERT Tremella Fuciformis extract used in Wet® Organics™ is a widely popular anti-aging supplement due to very small particles that retain 500 times its weight in water, allowing the skin to absorb and retain more water. It causes a plumping effect, reducing the appearance of fine lines. We use Tremella Fuciformis to prevent the breaking down over time of micro blood vessels within the skin and keep blood flowing through the skin optimally.
Quinoa Extract has high levels of magnesium to promote skin elasticity and regenerate skin cells, while vitamin B2 (riboflavin) builds up connective tissues and is integral to cell reparation.
Sodium Hyaluronate helps hydrate skin to keep it moist and supple. These tiny molecules can hold up to 1000 times their own weight in water. The skin naturally loses its water composition as it ages;Sodium Hyaluronate can replace some of the water lost in the dermis, and potentially fight dryness and help to plump and firm skins elasticity.
Copyright © 2023 Adnet Media. All Rights Reserved. XBIZ is a trademark of Adnet Media.
Reproduction in whole or in part in any form or medium without express written permission is prohibited.