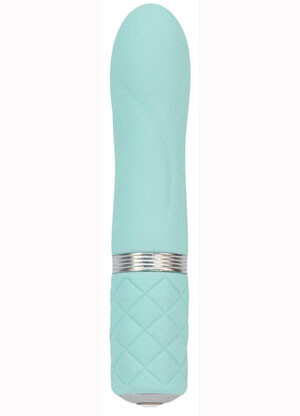 Pillow Talk Flirty by BMS Factory is presented in a feminine, crisp, white box. It is non-aggressive and discreet. The toy itself is a dressed up vibrating bullet. Wearing a pastel blue silicone coat tipped with a single Swarovski crystal, the lipstick-sized bullet looks girly enough to keep in a purse. Longer and slightly larger than your standard pocket bullets, it's rechargeable and operates the same as it's less-frilly cousins, but with a neat upgrade. The faceted button controls the vibration options, but rather than clicking to cycle through your choices, you press and hold until it reaches your desired setting. This is a lovely beginners toy or an on-the-road piece for a feminine user.
For more information, contact BMS Factory:
Product Description:
Pillow Talk is a collection that expresses beauty, fun and power, and Flirty is no exception. Its soft, flexible design promotes playful exploration while its small size makes it perfect to take with you anywhere you go. Do not let the size fool you, Flirty is packed with enough strength for even the most experienced power lover.