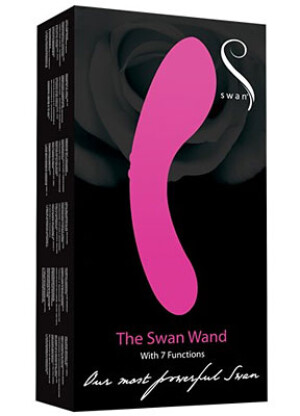 This thing has power. The Swan Wand from BMS Factory feels like it is plugged into an electrical outlet and has all the power in the world but yet this wand is cordless. The sheer power and size of this wand is remarkable. The dual motors allow exploring multiple erogenous zones to be simultaneously stimulated and after a few minutes I want to insert this in so many areas but it is far too large. It is literally a wand in the shape of a vibrator. It is a simple equation. Size times power equals pleasure and this wand equals "oh my."
For more information, contact BMS Factory:
Manufacturer Description:
The Swan Wand is easily Swan's most powerful model yet. Beautiful in design, extraordinary in power, the Swan Wand is perfect for soothing sore muscles, or for some more intense fun for the naughty & adventurous.

The Swan Wand is virtually seamless with a 100% silicone finish. It's smooth, soft and waterproof for a luxurious feel like none other.

It features 2 incredible PowerBullet motors - one at each tip - with 7 functions each. Using a simple button for each vibration, set both functions identically for synchronous fun or experiment by trying a different vibration on each end. Either tip is also able to be used on its own.

For portability and convenience, the Swan Wand has a travel lock and is charged using a USB cord. Simply disconnect it when the charge is complete and it's ready for use.

Explore & titillate every part of your body with the most powerful Swan yet.

Copyright © 2023 Adnet Media. All Rights Reserved. XBIZ is a trademark of Adnet Media.
Reproduction in whole or in part in any form or medium without express written permission is prohibited.