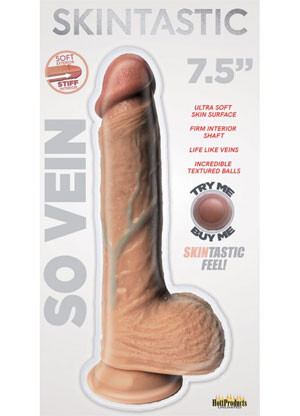 Do you ever look at the dildos in store and wish they were veinier? Well here is a great one for you to try out if you do. First off, the name is great, and the material does feel fantastic. Feels almost like the real thing. Even when you squeeze it. It has a soft life-like exterior with a stiff interior. Don't forget the balls! The balls are also textured and veiny as well. Its suction-cup base means you can stick it almost anywhere. This dildo has it all.
Product Description:
Never before has a Dildo felt so Incredibly Real that you will swear you are touching and experiencing the Real Thing! The SKINTASTIC Dildo series has the most advanced life like material ever produced with amazing detail paid in every aspect of it's design and features.