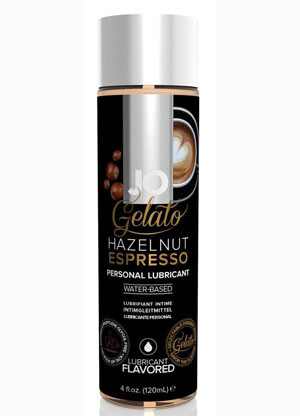 I'm glad that these flavors have come a long way in these years. This Hazelnut Espresso lube from Systems Jo provides a slick, non-sticky glide with a non-chemical taste. The lubrication worked rather well. It provided plenty of slip and slide while not feeling greasy or filmy. We used a small handful and that did more than enough for our needs. A strong smell of coffee naturally came with the little puddle. In hindsight, we could have used a smaller amount. The lube lasted more than the length of your average Sunday morning cartoon without reapplication.
Product Description:
JO® GELATO is a flavored water-based personal lubricant designed to enhance foreplay and comfort of intimacy. Formulated using a pure plant sourced glycerin, this product provides a comfortable glide using quality ingredients. Each flavor profile is created around a base that is sugar, paraben and propylene glycol free for a gentle glide that is never sticky or tacky and has no after-taste.