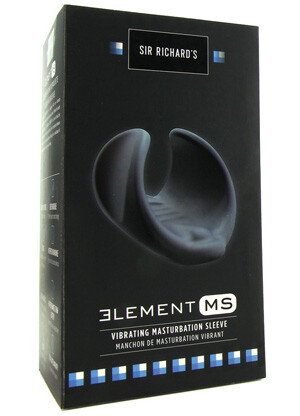 Have you ever, by chance, felt like having a manta ray stroke your cock? Because if so, someone on the Sir Richard's design team has great concept ideas. I'll never be able to watch a marine life documentary the same. The packaging shows you exactly what you are purchasing, a vibrating masturbation sleeve. There are multiple pictures taken with different perspectives to highlight each curve. The sleeve felt great. We used a water-based lube because of the silicone materials. There was only as much friction as we wanted there to be. A major perk is the fact that you can control the pressure at all times. We will be using this one again.
Product Description:
Move aside ladies, it's his turn. ELEMENT MS by Sir Richard's was designed to stimulate the male equivalent of the clitoris – the frenulum. To maximize sensory experience, place the extra strong motor against the sensitive erogenous zone along the underside of the penis. The supple FlexFit wings wrap around and allow for a personalized fit and adjustable pressure. Add lubricant, turn on the vibration and get ready for the best hand-job of your life.