Optimale Endurance Trainer UltraSkyn Stroker
Doc Johnson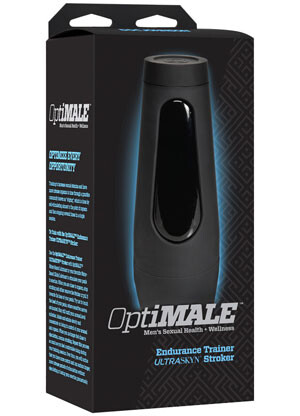 This is a great-looking stroker, I must admit. The way that this "Endurance Trainer" is designed is both functional and simple. The packaging has a good size picture of what it looks like all put together.
This stroker adds a unique but simple grip device that lets the user adjust the pressure to their liking. It is a fantastic option in my opinion. At the smaller end of the case is the airtight end-cap that will provide either more or less suction to fit your desire as well. The sleeve insert is made from ULTRASKYN so be sure to use a water-based lube.
In the end this is a very sleek looking stroker that functions exactly like it should. I would definitely recommend this.
For more information, contact Doc Johnson:
Product Description:
You can go the distance! Stamina training methods like edging have become standard as men everywhere learn to apply this technique for increased stamina and more powerful orgasms. Get in on the action with the OptiMALE™ Endurance Trainer, a hard-case stroker with a built-in squeeze plate grip that allows the user to control the pressure.
The OptiMALE™ Endurance Trainer is lined with a tight, textured insert in lifelike ULTRASKYN™, a material designed to warm to body temperature with use and emulate the feel of real skin. This stroker's end cap adjusts to perfectly customize the strength of the suction desired, and a screw-on top makes it easy to store safely and discreetly.