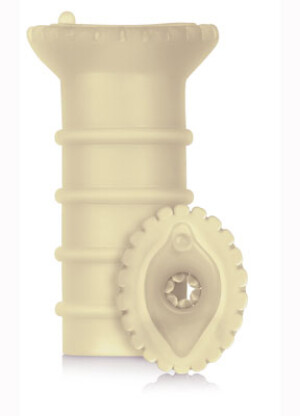 Zero Tolerance keeps it simple with the Pocket Sockets Superstar masturbator, and I am a fan of that. No over-sized carrying cases, no plastic hand holders, and certainly no awkward anthropomorphic features. The packaging shows you exactly what you are about to purchase. A 4.25" length stroker with a .5" opening ergonomically shaped for your hand. It is basic yet absolutely effective.
The stroker itself has "pleasure nubs" inside of that half-inch opening allowing a tighter fit while simultaneously adding an extra bit of skin contact to enhance the feel. The grooves on the outside work rather well for the basic design.
This is an open ended piece so pay mind not to splash lube all around. Clean up was simple with some warm water and mild soap.
Product Description:
This super soft and stretchy sleeve holds you tight, mimicking the best hand job you've ever had! Finger-spaced ridges give you an easy grip on the outside, while pleasure nubs give you extra sensation on the inside! Take your waterproof Pocket Socket into the shower or bath, and clean it up in a snap with the open double-ended design.