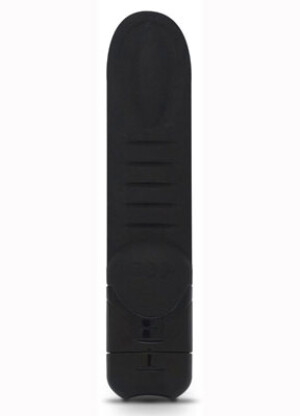 I love this! This is one of the most creative, gorgeously designed fantastic toys I have ever come across. I am completely and totally, whole-heartedly in love. Its design and versatility are so impressive. I use this toy at home and love traveling with it.
It truly is the Swiss army knife of sex toys. I love that I can be slapped with it, couple play, play by myself — I have even added it with other vibes. It feels great in your hands, has easy to use buttons, is rechargeable, super quiet and includes some awesome vibration modes. I also love that it's waterproof and bendable. I can't recommend this toy enough, and I am totally purchasing it for friends. 
Manufacturer Description:
This little medical grade silicone miracle measures about 7 inches long, and is bendable in both directions. Once you bend it, it will stay that way until you un-bend it! This is the first toy that you can bend to meet your exact needs - both internally AND externally. All other vibrators are one shape fits all - but women come in so many shapes so we made a toy that is totally customizable! Not only can you bend this any way you see fit, but it is seriously the quietest vibrator on the market. When you turn it on, you cannot hear it from just 5 feet away. Never worry again about anyone outside of your room knowing what you are doing inside of your room! Couples can also use Slaphappy to have even better sex - there are a variety of positions in which the man (or other woman) can hold Slaphappy to stimulate her clitoris DURING sex. The best part is, you can also spank with it! Slaphappy is 7 solid inches of silicone - so if you feeling rather frisky, you can also use it to slap your partner! Compatible with water-based lubricants, 100% latex free, and 100% phthlates free, too!

Copyright © 2023 Adnet Media. All Rights Reserved. XBIZ is a trademark of Adnet Media.
Reproduction in whole or in part in any form or medium without express written permission is prohibited.