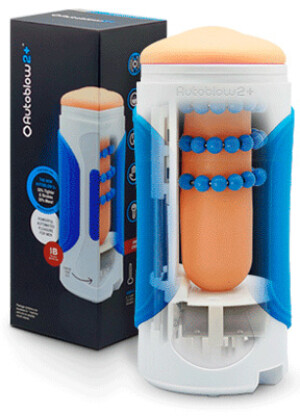 Who needs a girlfriend (or boyfriend!) when Vieci is popping out devices that take out all the stress of relationships and gets you right to the sex. The packaging is simple and gets straight to the point: you know the Autoblow 2 is in it, and you're excited.
Upon opening, users are presented with easy instructions in seven different languages. The box makes sure to remind you that the new, improved Autoblow is 33 percent tighter than the previous model. Once inside the toy, you can feel ring molds that then move up and down in a system motion, which feels pleasurable.
While, I can't compare the Autoblow 1 to the 2, because I've never used it, this particular toy has left a strong impression.
Product Description:
The Autoblow 2+ is the crowdfunded blowjob machine that has sold over 100,000 units since its launch in September, 2014. Featured on over 1000 websites in 40 countries including Buzzfeed, Huffington Post, Vice, Business Insider, Maxim, Men's Health, and Forbes, this is a product many of your customers have already seen online. It's the first ever electronic automatic sex machine for men that is powerful enough to get the job done and even works with 3 sizes of interchangeable sleeves. Advertised over a BILLION impressions on porn websites, this product sells itself in store environments. For new vendors, we even offer a number of products for FREE to test it out. There is no other risk-free offer like this in the novelty industry. Contact bsloan@vieci.com and lets work together to give your male customers what they want (more blowjobs) and give you what you want (more money).