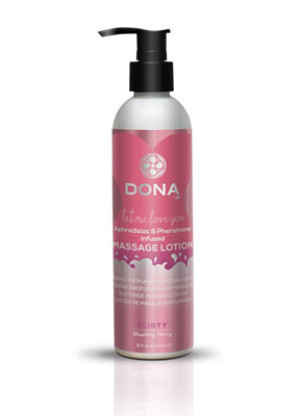 This was the hit of the party.
The Let Me Love You Massage Lotion by Dona by JO is packed with natural botanicals and fruit and nut extract oils. It feels amazing and smells delicious. I have been using it as my hand and body lotion between massages. It is very silky, not at all sticky and absorbs into the skin.
Dona's massage lotion is an aphrodisiac and pheromone infused product that can be layered with other products in this line. It does not have parabens or petroleum-based additives and is cruelty-free. It is ideal for sensitive skin, plus the fragrance is light and fresh, not overpowering at all.
Product Description:
System Jo DONA Scented Massage Lotion is a silky blend of aphrodisiacs and pheromones and supple aromas will leave skin beautifully scented and irresistible to the touch.
Aphrodisiac and pheromone infused, this gentle, non-greasy lotion moisturizes and rejuvenates. Perfect for back, shoulders, arms, hands, legs and feet. Available in 3 fragrances: Flirty Blushing Berry, Sassy Tropical Tease and Naughty Sinful Spring.