JT Signature Collection Thigh Cuffs
Stockroom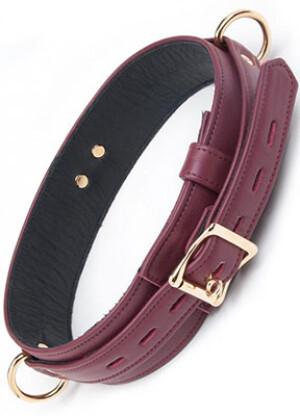 Don't move! Now you can chose to say it or not and still have your demands met. The Stockroom's JT Signature Collection Thigh Cuffs are perfect for almost any sub. What I loved about these is that they come with three D-rings that allow multiple possibilities for positioning your sub into the perfect pose for play and/or punishment. The unique buckle design like others by The Stockroom allow for an optional lock to be put into place to ensure your sub will not be going anywhere. These can be attached to the wrist, the ankles, or even The Stockroom's JT Signature Collection Waist Cuff. It comes in a deep maroon color and is made from bordeaux garment leather and lined with black glove leather. They come in three sizes and are comfortable enough for long-time wear.
For more information, contact Stockroom:
Manufacturer Description:
It never hurts to have more ways to position your sub. It was with this in mind that we included a set of deluxe thigh cuffs when creating bondage restraints for the JT Signature Collection. Each cuff is available in three sizes, and can be strapped securely to the upper thigh, in the same position one might attach a traditional stocking garter. These thigh cuffs have 18K gold-plated lockable buckles and three D-rings for a variety of attachment points. The positioning possibilities are limited only by your imagination and the limberness of your sub!

Copyright © 2023 Adnet Media. All Rights Reserved. XBIZ is a trademark of Adnet Media.
Reproduction in whole or in part in any form or medium without express written permission is prohibited.