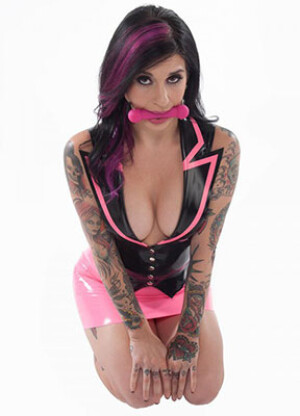 The Stockroom products are a new must-have for me! Whether you are just considering or have been into the BDSM lifestyle for years like I have, this line has amazing quality products and will meet the mildest or wildest of your kinky fantasies. The Joanna Angel Bit Gag is just one of the many inspired pieces by this "punk rock princess." I was able to bite down fairly hard without damaging the bit. It is big enough to do its job but still allows airflow. The strap is made from leather and is very comfortable for the wearer. It also has an amazing design for the buckle that will allow an optional lock to be put into place. This is sure to make any domme or sub go wild, as it did with my domme and I.
My domme decided to get a little creative and attach nipple clamps and restraints as this bit gag has two extremely durable O-rings on either side of the bit. Anyone who has used gags would probably agree that they can be a bit uncomfortable after a while, so if this is an issue for you, the Joanna Angel Bit Gag is perfect as it was created for those with smaller mouths or sensitive teeth in mind. For me, this increased the amount of time I could leave it on.
Market Appeal
The Joanna Angel Bit Gag by The Stockroom is made with a black adjustable leather strap that will fit anywhere from an 8.7-14.75 inch neck. Its buckle has an optional spot that allows it to be locked in place (which is perfect for bratty subs). The bit is five inches in length and .9 inches in diameter. This piece — and every other piece from this line, I'm sure — I will be added to both my personal naughty toy box and my demo kit for my kink parties! This is perfect for any type of BDSM dynamic or kink player.
For more information, contact Stockroom:
Manufacturer Description:
Porn punk princess Joanna Angel offers her name and signature color scheme to The Stockroom's classic silicone bit gag. More friendly to sensitive teeth and smaller mouths than a traditional rubber or silicone ball gag, the Joanna Angel Silicone Bit Gag doesn't sacrifice comfort when enforcing silence and compliance.

Copyright © 2023 Adnet Media. All Rights Reserved. XBIZ is a trademark of Adnet Media.
Reproduction in whole or in part in any form or medium without express written permission is prohibited.