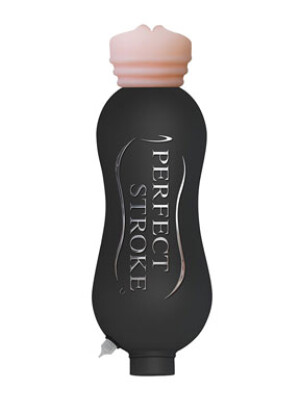 This hand-held masturbator packs a lot of suction into a small package. The Perfect Stroke by Zero Tolerance added a pretty effective idea to age-old event.

The packaging shows the four easy steps to use the Perfect Stroke. A vent at the end of the hand-held device creates a very strong vacuum that can be used on erect or flaccid penises.

That suction power is no joke. I found it to be a little too strong after a little while, however with the release valve it was not a problem at all. A quick pinch and the pressure would back off just enough to be just right again.

Market Appeal

The complete kit comes with a powerful bullet (batteries included!), a small package of lube and last but certainly not least, a free movie download. That really does feel like a complete deal.
Product Description:
Zero Tolerance has joined with a team of engineers to craft a revolutionary stroker that can be used with a hard or flaccid penis, making it the first stroker to include pleasure for men with erectile dysfunction. The Perfect Stroke uses Accumulation Technology to create its unique vacuum sensation, and can be used in conjunction with other ZT products. Zero Tolerance leads the way in research and development of products specifically designed for men's pleasure.