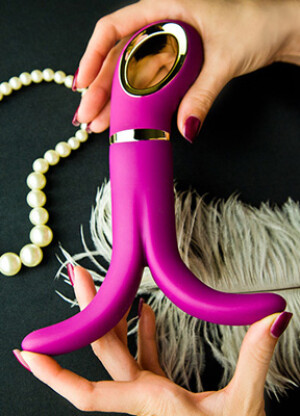 Not only does this vibe look like a Swiss army knife it is also as multifunctional as a Swiss army knife. At first I tried it as you would a traditional vibe. I used the tip of one of the prongs to get things warmed up and after a few minutes of enjoying the vibrating smooth silicone I inserted the toy. I pulled out the toy and that is when things got interesting. I let the two prongs of the toy explore all my erogenous zones. It is like two large magical fingers with a vibrating palm. My favorite is one prong buzzing my clit and the other prong in my backside. I also love the toys simple controls and super-quiet motors.
Manufacturer Description:
Gvibe 2, second generation, is impressively smart toy both for women's and men's pleasure
Gvibe 2 has now 100% extra power as it boasts 3 powerful motors – 2 in the tips and 1 in the shaft. The smart thing is that extra power does not require more charge – the time of operation remains as long as before – 4 hours on one battery. With the Gvibe 2 tips location change, now it becomes perfect to be used by men for prostate massage. Now Gvibe 2 is not only a beautiful and anatomical vibrator, but also a medical one. Women will enjoy its 3 motors and 6 new vibration modes which will excite them right away
Ecologically safe, hypoallergenic, patented premium medical silicone is now even silkier and more flexible
The new improved silicone in Gvibe 2 opens new exciting ways to use the toy as the new material is even smoother and has extra flexibility. Being 100% waterproof and not only water-resistant as before, Gvibe 2 is great to play with in the bath. Gvibe 2 boasts its magnetic charger so now charging is super-easy and smart. New fancy colours will please everyone's liking.
Features
• Revolutionary engineering design. Its shape adapts to each anatomy individually.
• Simultaneous stimulation of 3 sensitive spots: G-spot, the opposite wall of vagina and the entrance of vagina.
• New location of motors allows to massage men's prostate.
• Creates a sensation of fullness without stretching the entrance.
• Ergonomic design, with new fancy colours.
• Three powerful yet quiet motors.
• Six new vibration modes with changeable intensity - from light tremors to intense vibration.
• Intuitive controls.
• Made of premium-class hypoallergenic medical silicone.
• Odourless.
• 100% waterproof.
• Up to 4 hours operation on one charge of battery.
• Magnetic charger. Please note initial charging time is 2 hours.
• Size: 7 x 1,3 inches (18 x 3,5 cm).
• 1-Year Warranty.
Copyright © 2023 Adnet Media. All Rights Reserved. XBIZ is a trademark of Adnet Media.
Reproduction in whole or in part in any form or medium without express written permission is prohibited.