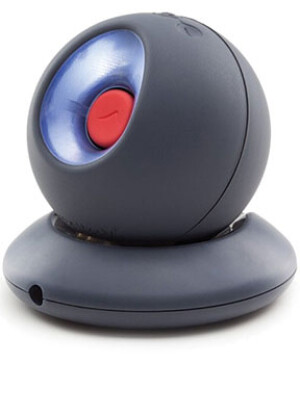 It's hard to describe this sexy, throbbing, wonderful little orb that feels like home in your hands and on other places. Like a Magic 8 Ball, the top of the silky feeling orb sports the one-inch wide "eye" that throbs with different levels of pleasure. The subtle indent at the bottom of the orb lights up and cradles your index finger able to push down the "eye" to create varying degrees of throbbing pressure against one's clitoris (or anywhere else on your body including your headache-suffering temples). The controls are flush and offer several speeds of really intense, throbbing slow pulses to zippier and faster throbs. But the most distinguishing feature of the SOL is that you can punch out the throbbing center and change the tips to increase (or decrease) direct stimulation. The various silicone tips (some included, some as an upsell), are similar to the attachments for the coil vibrators of yore offering smooth or frilly tendrils of pleasure. The SOL's core mechanism runs on magnet power that translates to magical powers, much like the Magic 8 Ball.

Market Appeal

The SOL is the one sex toy that the woman who has everything MUST have. The stylish design and the optional travel kit (which includes a smaller, portable charger in one of the most sexy travel bags I have ever handled) are the perfect gifts for that special woman.
Manufacturer Description:
Feel alive, energized and balanced with the NEW Revel Body SOL Sonic Vibrator® featuring the power of Om. Recognized by many ancient cultures Om is considered to be the energy that connects and joins all things together. Om vibration promotes sexual awakening, deepens intimacy, reduces stress and tension, and renews your mind, body and spirit.
Award winning Revel Body Sonic Vibrators® feature groundbreaking TrueSonic® technology that offers superior sensation, with exceptional performance, to the most sensitive places on the body.
Features
• Om setting to promote rejuvenation and relaxation
• Superior sensation and adjustable settings with minimal in-hand vibration
• Removable QuietCore™ attachments to customize your experience
• Body-safe materials - no phthalates, nickel, or lead for peace of mind
• Enhanced underwater action for the Best. Bath. Ever.™
• Discreet ergonomic shape for comfort and ease of use
• Waterproof, travel friendly, USB rechargeable LiPo battery to take on the go
• Most reliable battery-powered clitoral vibrator with the broadest range of vibration
• Two-year warranty – purchase with confidence
• 30 Day Money back guarantee if bought here; risk-free

Copyright © 2023 Adnet Media. All Rights Reserved. XBIZ is a trademark of Adnet Media.
Reproduction in whole or in part in any form or medium without express written permission is prohibited.