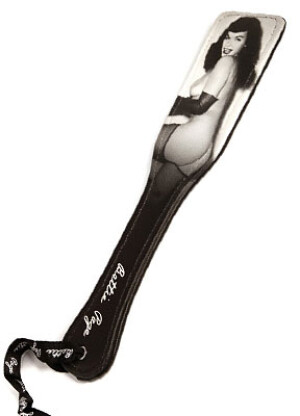 This juicy Picture Perfect Spanking Paddle is so cool in so many ways. The packaging is a beautiful and classy slipcase with a jewel box case complete with a silver-tinted Bettie Page signature. Open it up and the top of the box has yummy pictures of the Grand Dame herself. The paddle is secured in the box with elastics and what's this I see? A bare-assed image of Bettie deftly printed on the back of this perfectly balanced paddle. The other side of this faux leather paddle is quilted in small pads and the width of the handle is just the right size to wrap my girly palm around.

Market Appeal

This fun and flirty BDSM item goes way beyond the kink community. Retro scooter gals, trench coated men and young hipsters are going to buy this on the sheer novelty of it — and if they don't, give 'em a good swak with it and they will.
Manufacturer Description:
Just like Bettie Page herself, this spanking paddle has a dual personality. With 2 different surfaces to choose from, switch between light and heavy strokes to discover the pleasures of S&M play with your partner. The perfect paddle for bondage beginners.

Copyright © 2023 Adnet Media. All Rights Reserved. XBIZ is a trademark of Adnet Media.
Reproduction in whole or in part in any form or medium without express written permission is prohibited.