Broad City Collection Clitoral Vibrator
Lovehoney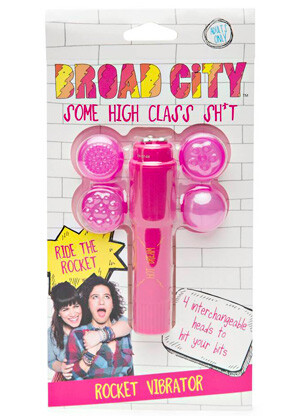 This is in the running for my favorite sex toy line of all time. First off, "Broad City" is one of my most favorite and loved shows. When I found out they were coming out with a toy line I almost orgasmed from excitement. I could not wait to see what they came up with and I am in love with all of the toys in the line — especially this vibe in the shape of Ilana's mood-lifting green lipstick.
This is sure to put you in a good mood anytime you use it. Use it all over your body. As the package states, this is definitely some "high-class shit," made just for your high-class vagina. It's so fun to use by yourself or with a bed buddy or two.
I can't tell you how happy this toy makes me. All my friends want them! I want one to display in my house and one to keep in my purse.
Market Appeal
You need to carry this whole line, just do it. You will thank me later. Fans of the show are looking for the items whether or not they like sex toys. But I am guessing if they like this show than they probably like sex toys. The packages are fun, colorful and very eye-catching. The packaging is made to hang on the wall and would make a great display when showcased all together in one section. They will fly off the shelf.
Manufacturer Description:
The Broad City Ride the Rocket clitoral vibrator is some high class sh*t. This powerful mini vibe blasts you through the stratosphere as you please and tease your clit. Four textured heads that you can swap around make your ride to the stars a hot dream.

Copyright © 2023 Adnet Media. All Rights Reserved. XBIZ is a trademark of Adnet Media.
Reproduction in whole or in part in any form or medium without express written permission is prohibited.