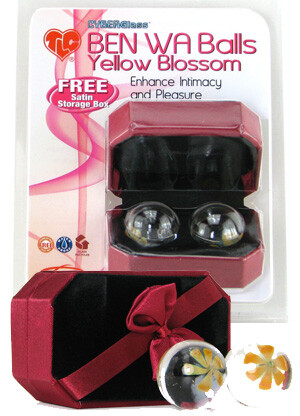 I really love these sexy glass Ben Wa Balls by Topco Sales. Kegel exercises are really big now and are important for women's health. These balls are pretty with a yellow flower inside and are non-threatening for a beginner user. They are made from hand-blown glass and will not go off in a metal detector!
For more information, contact Topco Sales:
Product Description:
Gorgeous set of slick Ben Wa Balls inlaid with beautifully detailed floral decals. A simple and pleasurable way to build up strong pelvic floor muscles, leading to increased sensation, a tighter grip on your playmate or toy and even stronger orgasms.