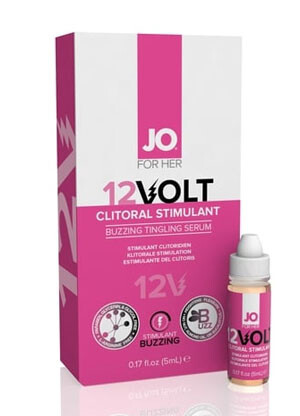 Szzt! Szzt! What's that sensation on my clit?! It's been jump-started with the System Jo 12 Volt! Just apply a little dab on your clit with the cleverly designed tip of the tube and wait for the fireworks to begin! The formula steadily ramps up sensation and peaks in a few minutes, giving you enough time to get your engine running. Perfect for any woman who wants to get a little more action under the clitoral hood.
Product Description:
Joyfully jolt yourself with buzzing pleasure using JO® VOLT. An exciting topical stimulant available in two strengths; 9V (regular strength) and 12V (maximum strength). This oil-based formula is glycerin, paraben and glycol free, making it an ideal choice for sensitive skin types. Apply a little during foreplay, toy play or solo-play for added pleasure. A little goes a long way.