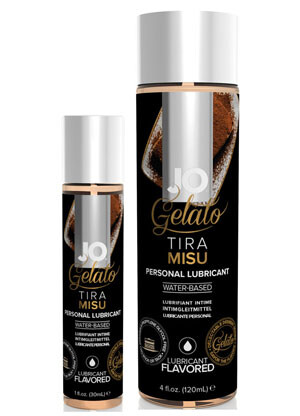 I love me some delicious flavored lube, and not all of them out there are very tasty. However, I have never been disappointed with a flavor from System Jo. The new Gelato line is so amazing and decadent. This one tastes just like the real thing — you can even put it on ice cream. But don't stop there, go put it all over your partner and lick it all off. Plus, this lube is a pH-balanced and pH-friendly formula that uses a pure plant-sourced glycerin. It's not sticky and has no weird aftertaste. It's good for your sweet tooth.
Product Description:
JO GELATO is a flavored water-based personal lubricant designed to enhance foreplay and comfort of intimacy. Formulated using a pure plant sourced glycerin, this product provides a comfortable glide using quality ingredients. Each flavor profle is created around a base that is sugar, paraben and propylene glycol free for a gentle glide that is never sticky or tacky and has no after-taste. Available in 5 decadent flavors!