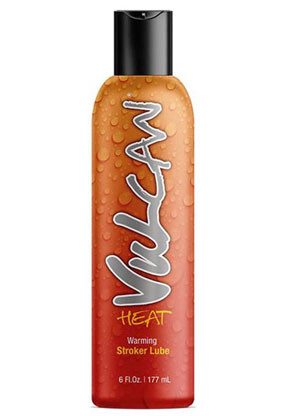 For just that little extra thrill I decided to try the Vulcan Heat warming lube. The whole idea is to warm up with friction. Pretty easy to see where this is going.
This lube worked fantastically for me. I do prefer a water-based lube so that was an easy check. It's just so much easier with all the silicone toys. The warming part felt just right and only takes a short while to kick in. At no point did it ever feel too hot or uncomfortable. I personally enjoyed the heightened experience. The added heat can be just the thing you need to change things up.
Vulcan Heat is extremely simplistic to clean. No residues were left on the toys after cleaning. I would most certainly use this product again.
For more information, contact Topco Sales:
Product Description:
Warm up for an extra-realistic experience with Vulcan® HEAT Warming Stroker Glide, a water-based personal lubricant that gently warms up with friction. Specially formulated for use with Vulcan®- brand strokers, this lube cleans up easily without residue and gently heats up to boost pleasure for a lifelike sensation. Apply generously to any Vulcan® stroker and enjoy an enhanced, extra-realistic sensation every time! Proudly made in the USA.