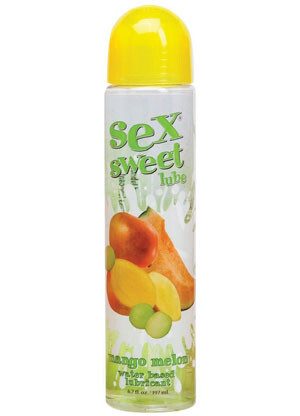 Flavored lubes are such an effortless way for a couple to start exploring new things in the bedroom. It's always nice to have a few flavors laying around for when you are in the sweet mood. Are you a tropical fan? If so the Mango Melon Flavored Sex Sweet Lube may be the one for you. It's easy to use open and the top makes dispensing a breeze. This lube is a long-lasting water based lube sure to turn your body into a slip and slide. It's enhanced with natural flavors and made in the good ol' US of A. Turn your or your partner into a delicious treat now!
For more information, contact Topco Sales:
Product Description:
Sex Sweet Lube is available in eight different flavors: Apple Berry, Bubble Gum, Cherry, Cinnamon, Mango Melon, Passion Fruit, Raspberry and Strawberry. Each sold separately. Sex Sweet Lube water based lubricants come in a variety of fruit flavors to sweeten foreplay and sex. Bottle of mango melon flavored sugar free lubricant. Long lasting, water-based formula. Greaseless and colorless. Won't harm fabrics, plastics or rubber. 6.7 ounces non-graphic plastic bottle. Line: TLC Adult Toys. Sub line: Sex Sweet Lube. Category: Cosmetics. Sub category: Flavored. Sex Sweet Lube is a registered trademark for Topco Sales. Made in USA.