Duke's Naughty Coloring Book Vol. 4 "For the Ladies"
DHD Media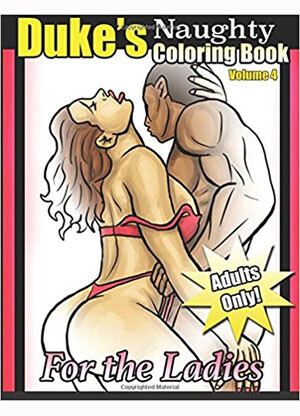 Coloring books for adults are all the rage these days, and I'm so glad that the adult industry decided to embrace the trend with books packed with XXX-rated scenes to colorize. Duke's Naughty Coloring Book's "For the Ladies" edition stands out with imagery that's perfect for ladies who love cock. Filled with sexy scenes of hooking up as well as buff men in all their glory, this coloring book focuses on the female gaze, which is very refreshing. I had so much fun coloring all the big booties and giant penises that filled the pages. Gift a copy of this coloring book to all of your girlfriends — they'll be mesmerized!
Product Description:
For over 10 years, Duke has been illustrating erotic comics and graphic novels showcasing beautiful curvy women in various adventures and scenarios. With his unique style of adult art and story telling, Duke gained a loyal fan base within the online community. Duke currently resides in New Jersey where he continues to operate his website and create more stories and comics of different genres.